Élan Flowers thrilled to be invited to collaborate with fashion designer Mimi Prober for NY Fashion Week after building a friendship during her many visits to our shop on Grand Street. We were intrigued by her botanical dye techniques using dried flowers and leaves and, when we first began giving her our dead flowers, we had no idea about the beautiful garments that she was creating in her studio just down the street. What a happy discovery to learn what an amazing artist had walked through our doors!
A huge thank you to Women's Wear Daily for the feature on our collaboration with Mimi for her spring collection show:
It takes a village: Community, or the lack thereof, is an ongoing topic of conversation, as 'Vanishing New York' blogger Jeremiah Moss can attest. But Mimi Prober, a designer who specializes in 'creating modern heirlooms using antique textiles,' created her spring collection with the help of Élan Flowers.
Quote from WWD article:
"The designer relies on local fiber farms, artisans and New York-based manufacturers to create textiles design and one-of-a-kind pieces. About a year ago en route to People's Revolution's Grand Street office, where she keeps a space, she started dropping by the local florist. "I got really excited because I've always used natural color dyes in my process. I'd always wanted to collaborate with a florist because they have a ton of waste, and flowers that they throw away, that can be used," she said.
It just so happened that they were on board with her design philosophy and they started giving them flowers for natural dying. For spring, they offered her roses, hydrangeas,sunflowers, and wildflowers to use to create natural dyes for the collection. "They're familiar with what I do. And they created this kind of beautiful flowing forest as a backdrop," said Prober… "
Please read more of the Women's Wear Daily feature about our collaboration with Mimi during NYFW Spring/Summer 2018.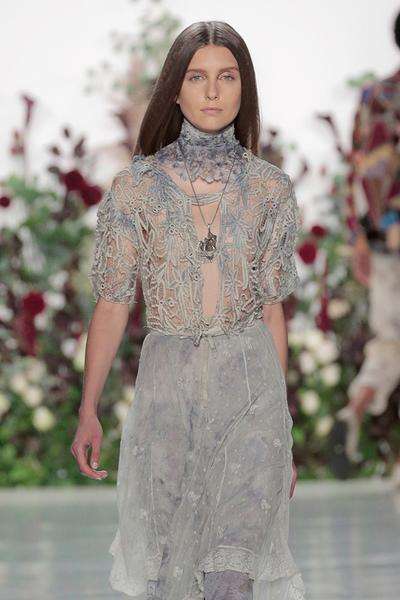 (photo credit – Randy Brooke)